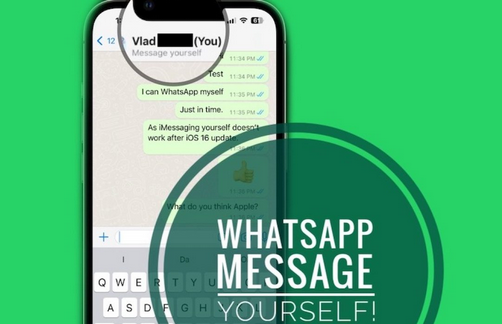 You may know that WhatsApp recently released a new feature called "Message Yourself" if you follow tech news regularly. The feature was announced by WhatsApp a few months ago, but it's still taking time to reach users.
Today, all users can use the "Message Yourself" feature. However, the problem is that many WhatsApp users still need to learn how to use the new feature.
This guide will show you some simple steps to enable and use WhatsApp's new Message Yourself feature. But first, let's know why you should use this feature and why it's useful.
WhatsApp's Message Yourself Feature
There are millions of WhatsApp users today. Business people also use it. The one thing that WhatsApp users have always wanted is to be able to save messages.
Messenger on Facebook has a feature that lets you send yourself messages. This is a very helpful feature because it lets users save important papers, pictures, videos, texts, and so on without using a third-party app.
The same quality is now available on WhatsApp; all users can use it. You must message those files on WhatsApp whenever you save an important file, paper, etc.
How to Message Yourself on WhatsApp
Now that you know about WhatsApp's new 'Message Yourself' feature, you may want to use it to save important notes, web links, papers, voice notes, pictures, videos, etc.
It's easy to send yourself a message on WhatsApp, but you need to make sure your phone has the latest version of the app. Follow some of the straightforward steps we've shared below after updating the WhatsApp app.
1. To update the WhatsApp app for Android, open the Google Play Store. The feature has been slowly added to WhatsApp, so it may not be visible on your version.
2. After updating the app, open it. Next, tap on the 'New Chat' icon at the bottom right corner.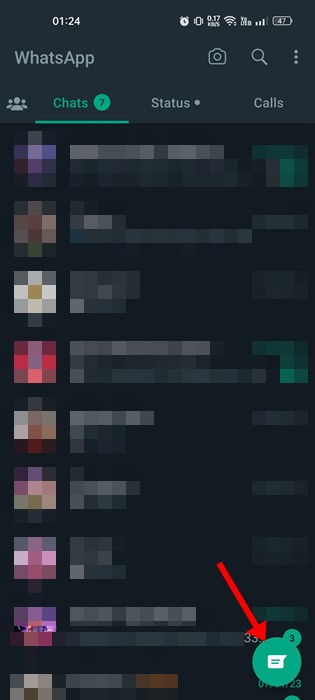 3.
Next, on the screen where you choose a friend, choose "Message Yourself." The choice will be found in the part called "Contacts on WhatsApp."
4. This will open the chat panel. The chat head will show your name and a 'Message yourself' tagline.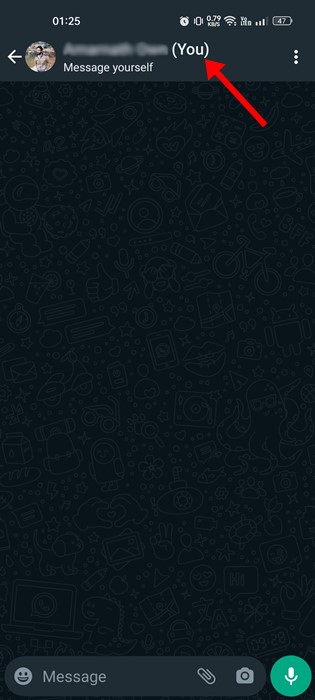 5. You need to send the messages you want to save. You can send different files, documents, notes, photos, videos, or whatever you want.
6. The messages you have sent to yourself will appear in the Recent chat list.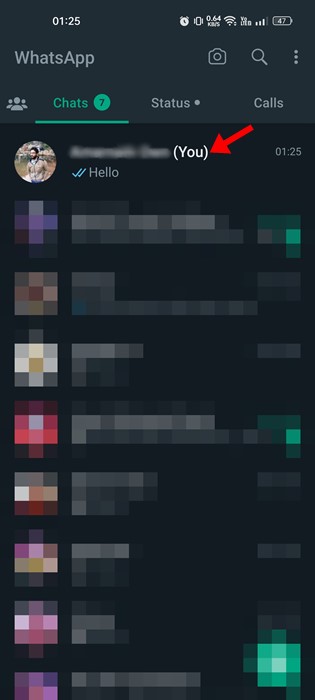 All done! Here's how to send yourself a message on WhatsApp.
Note: We've shown the steps using an Android version of WhatsApp. On the iPhone and iPad, you need to follow the same steps.
How to Message Yourself on WhatsApp (Old Method)
You can still use the old messaging method if the new feature still needs to be added to your WhatsApp account. Start a new WhatsApp group and follow the steps to message yourself.
Create a new group first, then add just one participant to it.
You must remove your friend from the group once it has been made.
Now, there is only one person in your group: you.
Now, whenever you want to save a certain type of file, you can open the group with you as a participant and send the file as a message.
All done! This is the more traditional WhatsApp messaging method. This one works well, but the new method is more stable and easier to use.