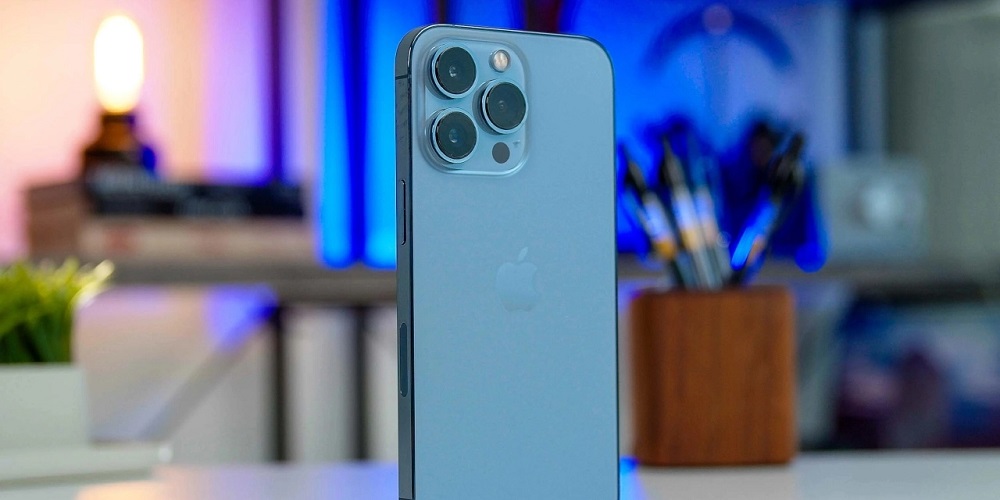 Are you getting bothersome spam notifications from Apple's Calendar app on your iPhone? Are your Calendar cells clogged with notifications and reminders for events you didn't add? If so, your iPhone is now a victim of Calendar spam (also known as the iPhone Calendar virus); we know what it is and how to fix it. These spam Calendar notifications may affect other iCloud-enabled Apple devices you own and your iPhone. Here, we'll teach you how to eliminate it on all your impacted devices.
How Does iPhone Calendar Virus Work?
It's important to note that this Calendar spam is not a virus; rather, it's a rogue calendar account you may have added while visiting a dubious website. Because of how it behaves, you might be tempted to term it a virus. They generally appear as pop-up windows or emails asking you to confirm something, and once you agree, you have unintentionally registered to a spam calendar. Calendar subscriptions are delivered as .ics links; therefore, you must exercise extreme caution when accepting invites using them.
The easiest way to avoid receiving this unpleasant spam is to avoid visiting sketchy websites. However, if you must visit them, you should normally follow strategies to avoid phishing scams since attackers use tactics to acquire the Calendar spam on your phone, similar to phishing. But, if scammers obtain your email address, you may also be invited to spam calendars. Hence, be especially cautious with invitation messages sent through email or the Notification Center. If you are ever invited to one, please decline and report it.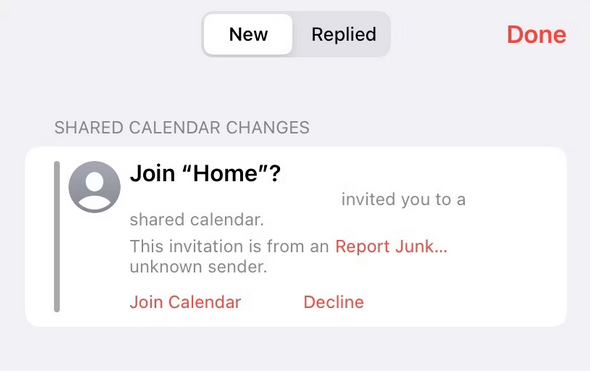 While the spam Calendar event notifications may be innocuous to your device, the links may represent major security threats if you tap or click them. And this is why we advocate getting rid of them as soon as possible.
iPhone Calendar Virus Signs
Consistent notifications like this are the clearest evidence that your Calendar is spam.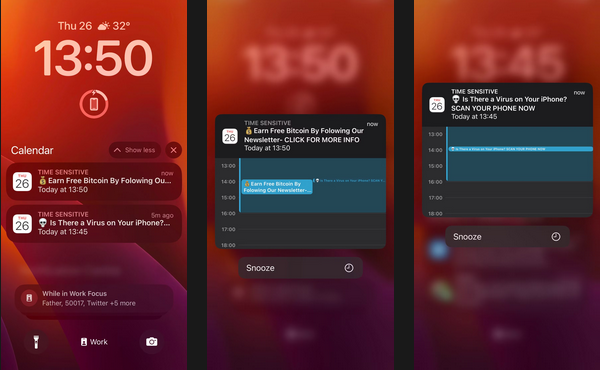 Additional samples will emerge in the app, such as "Receive Free Apple Gift Cards by Spinning the Wheel!" and "Protect Your iPhone With These Special Tools," among other deceptive promises. You may also search your Calendar options to find them: If you open the Calendar app on your iPhone and tap any day of the month, you'll find a list of suspicious-looking events.
Because this spam uses Calendar subscription accounts to send these notifications, you may also check your Calendar subscriptions to find out whether there are any subscriptions that you did not pick. Follow these steps to do this on your iPhone or iPad.
1 – Tap Calendars at the bottom of the default page after opening Calendar.
2 – Check the Subscribed area for any strange-looking subscriptions.
Here's what you need to do if you're using a Mac.
1 – Open Calendar by clicking the Calendar icon in the Dock.
2 – Look in the left pane of Other to check whether you're subscribed to any strange-looking calendars.
How To Fix Calendar Spam On iPhone Or iPad?
While you may be tempted to modify the calendar events on your iPhone and erase them one at a time, there are two simple ways to remove spam from your device permanently.
Remove Calendar Spam From Settings App
The Settings app allows you to eliminate the Calendar spam on your iPhone or iPad instantly.
1 – Go to Settings, then Calendar, and then tap Accounts.
2 – Locate and open any Subscribed Calendars.
3 – You will find a list of your calendar subscriptions here; select the one you suspect is questionable.
4 – When prompted, tap Delete Account and confirm.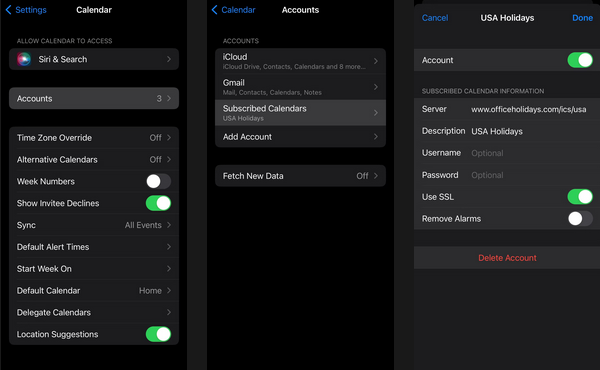 Remove Spam From The Calendar App
However, you may permanently remove the Calendar spam from your device by following these easy procedures in the Calendar app.
1 – Open Calendar on your iPhone.
2 – Tap Calendars on the main page's bottom.
3 – Under the Subscribed section, tap the I icon next to the questionable calendar subscription.
4 – Now, tap Unsubscribe at the bottom, and when the pop-up appears, select Unsubscribe and Report Junk.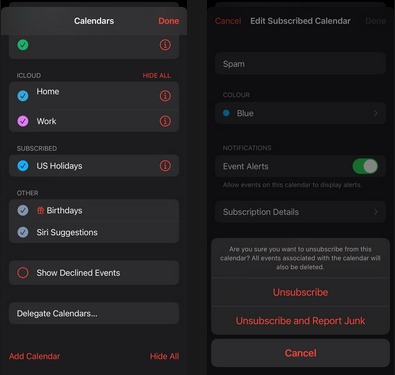 How To Fix Calendar Spam On Mac?
If your spam Calendar is tied to an account synchronized on your iCloud, the problem may transcend to your Mac. Subscribed Calendars do not appear to sync immediately between devices, though. Therefore, here's how to remove any suspect account from the macOS Calendar app.
1 – Start Calendar by clicking the Dock icon.
2 – Choose Settings from the navigation bar's dropdown menu next to Calendar.
3 – Select the Accounts tab.
4 – Select the questionable account, then click the minus (-) button to remove it.
If you've added a spam Calendar to your Mac, follow these steps to remove subscriptions.
1 – Open Calendar and check the Other category on the left pane.
2 – Select the erroneous calendar subscription by Control-clicking it and then selecting Unsubscribe.
Stop Future Spam By Blocking Pop-ups In Browser
Because malicious pop-ups caused this spam app assault, you should deactivate them on your iPhone or iPad to prevent it from happening again.
Disable Pop-Ups In Safari
To adjust Safari's browser options, use the iPhone Settings app. Hence, follow these steps.
1 – Go to Settings and scroll down to Safari.
2 – Scroll to the General section and turn on the Block Pop-ups toggle.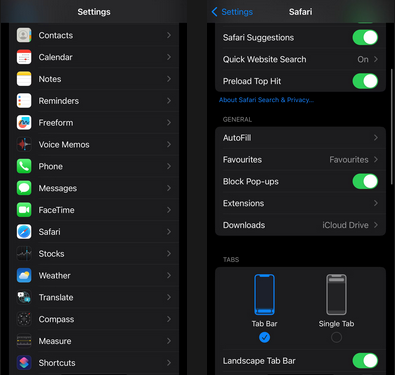 Disable Pop-Ups In Chrome
If you want to use Chrome instead of Safari, you may do it directly from the app.
1 – Open Chrome and tap the profile icon in the upper-right corner.
2 – Scroll down and tap Content Settings in the Settings menu.
3 – Now, tap Block Pop-ups and turn on the toggle.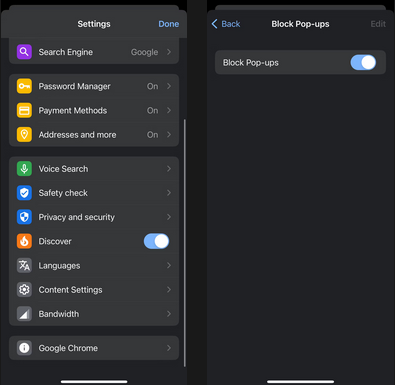 Conclusion: iPhone Calendar Virus
There's no need to fear and try to install an antivirus on your device because this spam attack isn't a virus. Even if you did, it is unlikely that you'll be able to get rid of it. If you follow the instructions below, you can remove the spam from your device. Even if they aren't immediately hazardous, remove them since they are obnoxious and intrusive, and the number of notifications on your iPhone may drain your battery. Use Apple's built-in security protections and improve your safe surfing habits to avoid this problem in the future.