YouTube is the primary source of entertainment for a lot of individuals. With millions of YouTube channels available, locating anything worth binge watching takes little time. But, if YouTube keeps pausing the videos, the experience may be ruined. So, why does YouTube pause videos, and how can you fix it?
How To Fix YouTube Keeps Pausing Videos?
Poor Internet Connection
If YouTube videos are frequently pausing or the site is having problems loading, you may have a sluggish internet connection. However, there are a few simple strategies to boost your connection.
Close Unnecessary Apps – Your internet can be sluggish because there are too many active apps. Delete any app that you no longer require.
Move Closer To Router – The Wi-Fi signal weakens as you move away from the router. Remember that 2.4GHz has a greater range, but 5GHz has a higher speed. If you're relatively close to your router, switch from 2.4GHz to 5GHz to watch YouTube videos without interruptions.
Restart Router – When you restart the router, you allow it to clear its short-term memory (or cache), which enhances overall performance. When reboots, your router will choose the least busy channel, offering a stronger connection to the connected devices.
Use A Wi-Fi Extender – Well, if you can't move your devices close to the router or run an Ethernet cable around the home, a Wi-Fi extender will expand the coverage area of your router.
Headphones Keep Disconnecting
Well, if you're watching YouTube on mobile and your headphones fall out, YouTube will pause the video. If the plug on your headphones or the port on your phone is damaged or your Bluetooth headphones do not have adequate power, they will keep disconnecting; instead of looking for where your headphones function, replace them or take your phone to a reputable repair shop to check the port. If you're wearing Bluetooth headphones, there might be various reasons why they keep disconnecting, causing YouTube to pause.
Move Closer To Device – Most Bluetooth headsets have a 20 to 30 foot range. Your headphones will disconnect if you are too far from your computer or phone. Just moving closer should fix the problem.
Charge Headphones – It is difficult for your phone's headphones to keep a solid connection when the battery is low. Choose Bluetooth earphones with long battery life to keep it from happening again.
Disconnect Headphones – It's basic advice, but turning off and on your Bluetooth connection can fix any issues.
There's A Conflicting App
As you may be aware, certain apps might interfere with YouTube's operation, causing it to keep pausing. Often, the antivirus or VPN app is the one causing the problem. So first, examine the list of installed apps and eliminate any that appear to be problematic. Next, restart your device and check if YouTube keeps pausing at random.
You Need To Update YouTube App
If you last updated the YouTube app a while ago, you'll encounter many problems, including YouTube pausing videos on its own. Search for YouTube in the Play Store or App Store to fix it, then tap the Update icon. You should be capable of watching YouTube without interruptions after your phone has installed the update. The YouTube app for Windows is the same way. Open the app and update it through its settings or the Microsoft Store.
Ads Keep Interrupting Videos
It's no secret that one of the ways to generate money on YouTube is to include ads throughout a video. While this may assist content providers, it may become annoying for their viewers when ads interrupt the video. Thankfully, there is a better solution than returning to the YouTube video and clicking Skip Ads to enjoy the content. All you need to do is install an ad-blocker to watch YouTube videos without interruptions from ads. However, installing an ad blocker whenever you switch between devices and browsers is not the most efficient way. Instead, consider paying to YouTube Premium and registering into your account each time you watch something on YouTube to avoid interruptions caused by ads.
YouTube Is About To Take A Break
Well, if you spend a lot of time watching videos, you understand the YouTube app will pause the video after a while. While this may allow you to stretch your legs and rest your eyes, it might be less pleasant if YouTube takes a break too often. So here is how to fix it.
1 – On your mobile device, launch the YouTube app.
2 – Choose Settings by tapping the Profile symbol in the top-right corner.
3 – Go to General.
4 – Deactivate Remind me to take a break. You may set a custom timeout for YouTube to stop playing.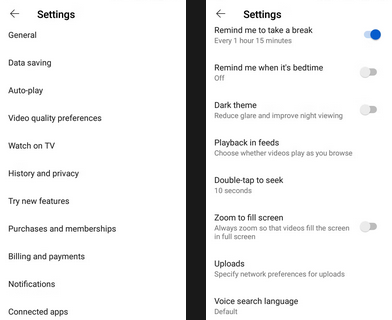 You can't set YouTube to skip the commercials if you're watching it online. However, to watch YouTube without interruptions, you can install a browser plugin such as AutoTube – YouTube nonstop.
YouTube's Data Saver Is Turned On
Data Saver is intended to reduce visual quality, so you do not over your mobile data allowance. It will stop YouTube from playing if you go above the set limit. But, if you have an unlimited data plan, you may turn off the function and continue watching YouTube without it pausing. You may disable Data Saver on your phone in the following manner.
1 – Open the YouTube app. 
2 – Choose Settings by tapping the profile symbol in the top-right area.
3 – Choose Data saving. 
4 – Disable the Data Saving Mode toggle.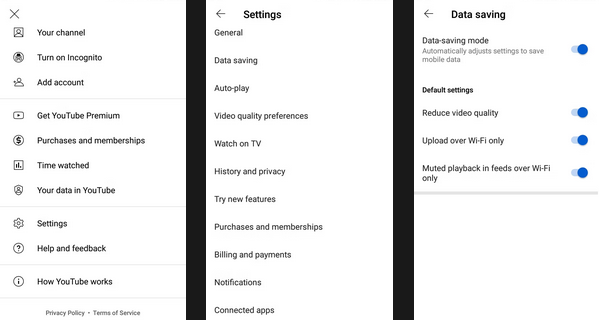 YouTube may pause if you've set the Battery Saving function on your phone. Open the notification panel and tap the Battery Saver symbol to disable it.
Using Malfunctioning Browser
If YouTube pausing videos are one of many problems you have when surfing, your browser may be to blame. Most of the time, simply upgrading your browser to the most recent version is sufficient to fix the problem. Use a different browser if you're still having issues after the update, and plan on binge-watching YouTube.
Browser Extension Is Outdated Or Corrupt
If you've installed several extensions on your browser, there's a chance that one of them is causing your YouTube problem. Launch a new window in Incognito or Private mode to fix it. Your browser will now function without any extensions as a result. If YouTube works normally, you should disable all extensions and enable them one at a time to pinpoint the problematic ones. Most of the time, extensions meant to assist you in restricting media content will create these issues.
YouTube Isn't Allowed Unrestricted Background Data Usage
In addition to verifying the YouTube app, you should check your phone's data use settings. If YouTube is not authorized to use data in the background without restrictions, it may keep pausing on its own. Here's how to fix it.
1 – Go to the Settings menu on your phone.
2 – Select Connections > Data usage. 
3 – Choose Data Saver > Allow app while Data saver is on. 
4 – Choose YouTube from the list of apps and turn on the toggle after it.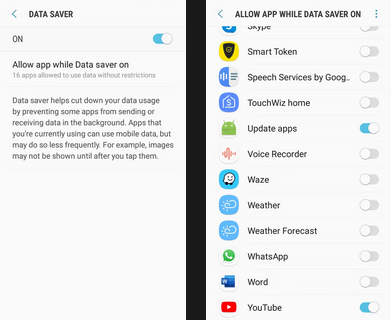 Remove Cache Data
Your PC or phone will keep cache data from every website you visit to reopen the website faster the next time you access it. However, it will slow down if your browser collects fewer cache data. Clear the cache data in Chrome or your preferred browser to see if this solves the problem. For example, if you're watching YouTube on Android, access the Settings menu and tap on Apps and alerts. Then, tap CLEAR CACHE after choosing YouTube > Storage.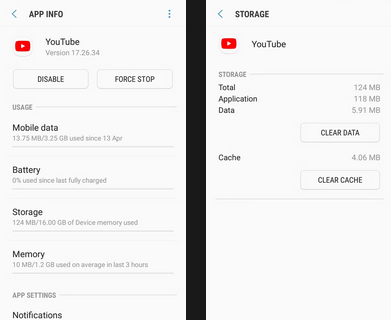 Phone Ran Out Of Storage
This is a regular problem with older smartphones with 16GB or 32GB of storage. When it preloads the videos, YouTube caches data on your phone so you may watch them without interruptions. To fix it, free up some storage space on your phone by uninstalling apps or removing data. Yet, you should keep the memories you've saved on your phone to watch YouTube. Instead, choose one of the most secure cloud storage services to keep your photographs and videos.
Conclusion:
As previously noted, when YouTube keeps pausing videos, you may be experiencing a problematic internet connection. If the problem remains, try a new browser or a different headphone set, or keep YouTube playing without pausing. Now that you can watch YouTube content without interruptions, you should understand how to play YouTube in the background.