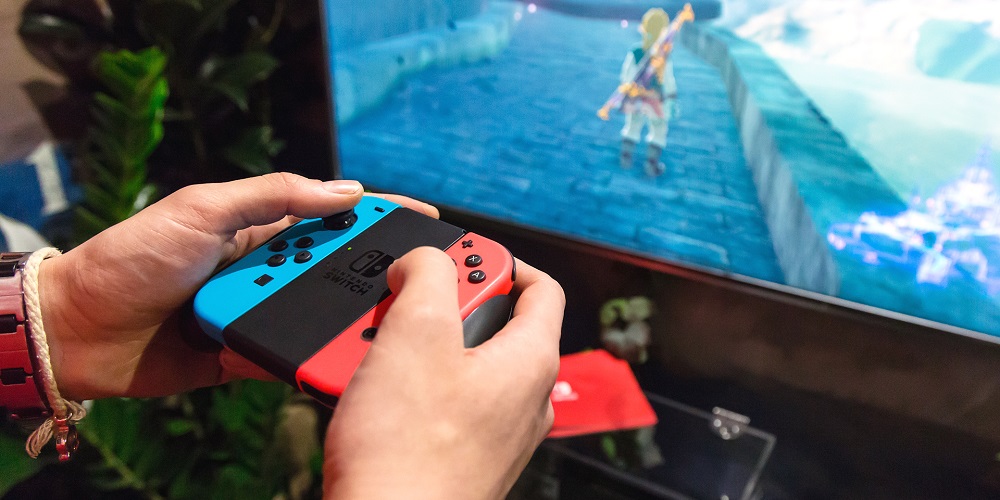 It's time to play some games with your buddies. Everyone is sick of playing the same old board games. You want to demonstrate your new Mario Kart skills. Fortunately, you have a Nintendo Switch in your backpack and a TV in a crowded area. So, if you're wondering how to connect your Nintendo Switch to a TV or need some fast tips and tricks for your Nintendo Switch setup, we're here to assist.
What You'll Need To Connect Nintendo Switch To TV?
While the Switch is a fantastic portable console, you may want to connect it to a TV for a more traditional home console experience. However, four components are required before connecting your Switch to a TV. So, before connecting your Nintendo Switch to your TV, ensure the following.
An Applicable Nintendo Switch Console
The Nintendo Switch console is required to connect it to your TV. To connect your Nintendo Switch cable to your TV, however, you'll need a console that supports Nintendo Switch Docks, such as the normal Nintendo Switch or the Nintendo Switch OLED. Unfortunately, this means that some Nintendo Switch consoles, such as the Nintendo Switch Lite, cannot be connected to a TV since HDMI cables and Nintendo Switch Docks are incompatible.
A Nintendo Switch Dock
A Nintendo Switch Dock and a compatible Nintendo Switch console are required. While Nintendo provides an official dock for Switch owners, several third-party docks work similarly and are less expensive. However, it would be best to investigate using a third-party Nintendo Switch Dock with your Nintendo Switch first since any damage caused by third-party devices may void your warranty. However, if your Nintendo Switch console has a working Dock, you're one step closer to connecting your Switch to your TV.
A Compatible HDMI Cable
You will also need an HDMI cable to connect your Nintendo Switch console to your TV and a compatible Dock and devices like the Nintendo TV. Any HDMI cable will work, although you can use a third-party HDMI cable instead of the original Nintendo Switch cable. However, because there are several versions of the standard cable, you should review the crucial information about HDMI cables to ensure you use the proper one. Most type-A HDMI cables should work with your Nintendo Switch, but as long as you have a trustworthy third-party or official HDMI cable, you'll be well on your way to connecting your Switch to your TV.
Joy-Cons Or Nintendo Switch Pro Controllers
Once your Nintendo Switch is docked and connected to your TV, you'll need a set of controllers that best suit your gaming experience. Your Nintendo Switch console will come with two Joy-Con controllers as standard. However, if your Nintendo Switch is connected to a TV, you may discover that a Nintendo Switch Pro Controller is better suited to the console-like experience. Many considerations weigh in on whether you should use Joy-Cons or a Pro Controller with your Nintendo Switch, but having a proper controller for your Switch will improve playing your Switch through a TV.
Connect Nintendo Switch Console To TV
The ability of the Nintendo Switch to connect to a TV is one of plenty of reasons to get one. Once you've taken the plunge and ensured you have all the essential components, you're ready to connect your Nintendo Switch to your TV by following these instructions.
Open the cover on the back of your Nintendo Switch Dock to reveal three internal ports: the AC Adapter port, LAN or USB 2.0 port, and HDMI Out.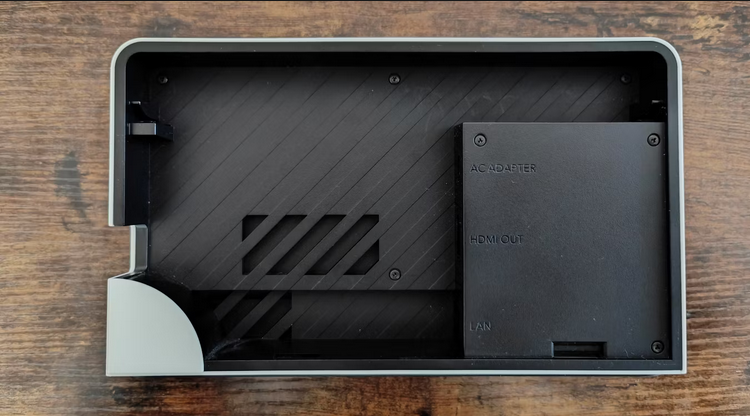 Ensure your AC adapter is plugged in and connected to the AC Adapter port on the back of your Switch.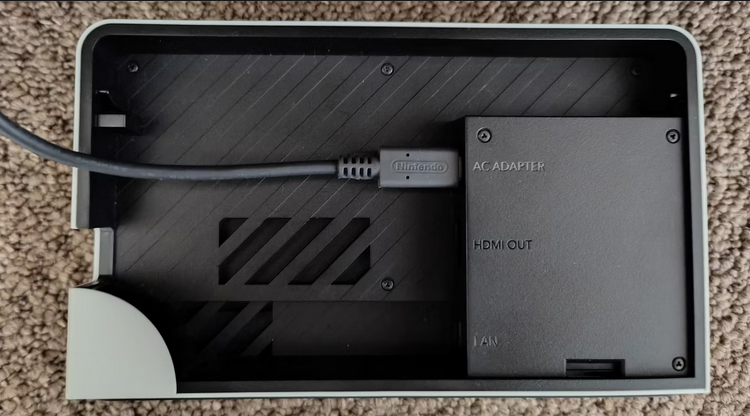 Similarly, ensure that your HDMI cable is connected to an HDMI port on your TV and the open port on the back of your Switch Dock.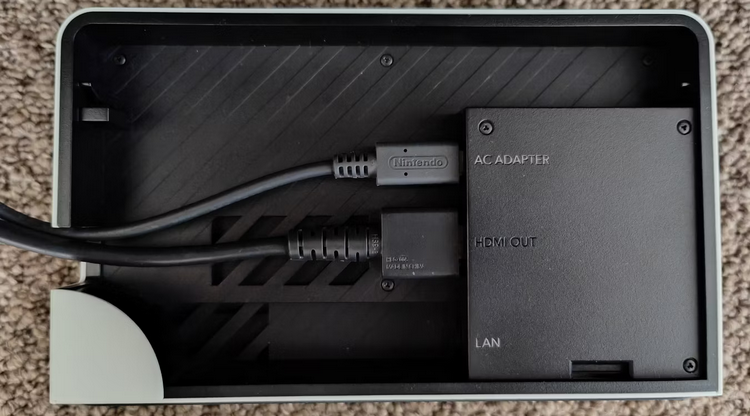 Cover up the ports and put your Nintendo Switch in the Dock when your Nintendo Switch Dock is plugged in and connected to your TV.
With your Nintendo Switch Dock installed and your Nintendo Switch docked, ensure your Nintendo Switch is turned on and your TV is set to the right HDMI channel. You're ready to start playing your favorite Switch games on the big screen. Playing your Switch on your TV expands the possibilities for portable gaming. It gives you freedom over how you want to play Nintendo games, whether through handheld convenience or classic console-like gameplay via a TV.
Tips For Using Nintendo Switch With TV
Because your Nintendo Switch is now connected to a TV, you may use it as a portable device and a home console. However, in addition to the ability to play your games on the big screen, several essential tips boost playing your Switch through a TV.
Use Nintendo USB Port For Faster Internet
Many people need to be made aware of the purpose of the USB port on the back of the Nintendo Switch Dock. The port behind the hinge works with various devices because it is USB 2.0 compliant. If you desire higher internet speed, connect your Switch to a LAN connection via the USB 2.0 port using a LAN adapter for a direct Wi-Fi connection. You may also use the dedicated LAN port if you have an OLED Dock. Faster internet connections will assist in ensuring your console-like gaming experience while playing your Switch over a TV.
Make Battery For Nintendo Switch Last Longer
Another suggestion for boosting your Switch experience while connected to a TV is to use particular settings to make your Nintendo Switch battery last longer. Turning off vibrations is one of the ways you can extend the life of your Nintendo Switch controller batteries. Follow these instructions to turn off vibrations on your Nintendo Switch.
Select System Settings from your Nintendo Switch's Home screen.
Highlight the Controller and sensors options.
Check that the Controller Vibration setting is set to Off.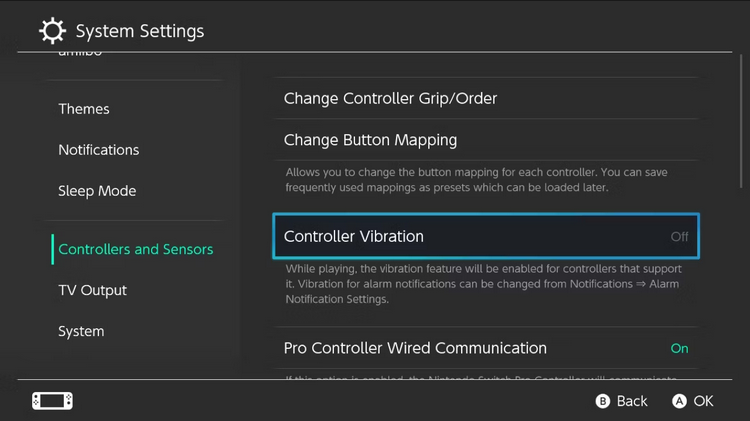 Aside from improving battery life, turning off vibrations may improve your comfort level when using Switch controllers. As a home console experience, prolonging controller battery life and changing vibrations tailors your Nintendo Switch to your preferences and extends gaming duration.
Connect Nintendo Switch To TV Without A Dock
Another trick you may use when connecting your Switch to a TV is to avoid using a Nintendo Switch Dock. There is no way to connect wirelessly or cast a Nintendo Switch display to your TV. You may, however, use a USB-C to HDMI adaptor to connect your Switch to your TV while on the move. Connect the USB-C to HDMI converter to your Switch's charging port, and then connect an HDMI cable to your Switch and TV as usual.
Conclusion:
While several competing consoles are available, the Nintendo Switch stands out because of its large library, mobility, and ease of use. It's a very adaptable console that can connect to TVs, making it ideal for playing on the move or with large groups of friends. You can use the many accessories that improve your gaming experience to maximize your Switch. There are plenty of ways to make your Switch party spectacular, from high-end controllers to LAN adapters.