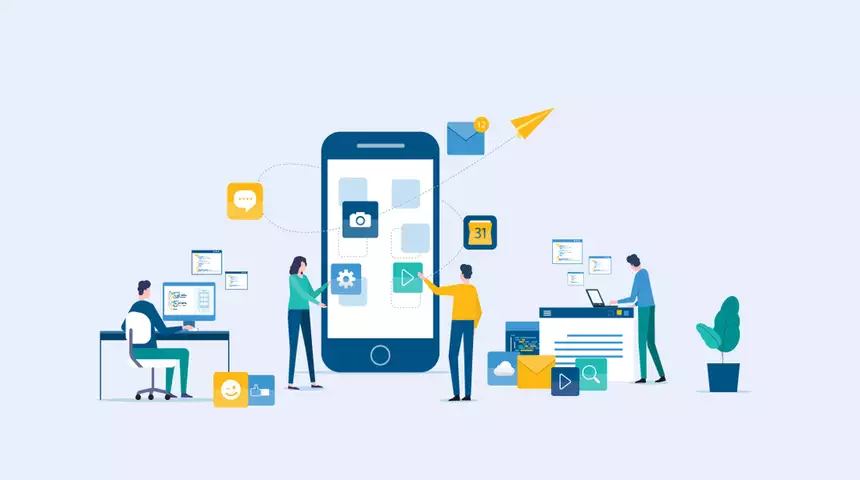 Top 8 Android App Creation Tools
1.

Appy Pie

Who knew that some of the best apps for making mobile apps didn't require advanced technical understanding or writing abilities? Appy Pie does just that because it is a platform for making apps without writing code. Even though it's great that you know the most popular computer languages if you need to create an app quickly for a customer, using a no-code platform would be helpful.

Creating apps with Appy Pie can provide your customers with quick and easy native app experiences. Your app applications will also provide offline features for content access if any of your users do not have Internet access.
2.

Android Studio

Google created Android Studio, the official Integrated Development Environment (IDE) for Android. Using IntelliJ IDEA as a base, this IDE was created. It is a must for most Android mobile development projects if not all of them.

Android Studio lets you make apps that work on phones, laptops, Android TV, Android Wear, Android Auto, Glasses, and more. That's what you'll use for most of your work. It works with C++, too.
3.

Instabug

The next item is a great way to test and share bugs. Businesses like Yahoo, BuzzFeed, Lyft, and PayPal use it through the development phase. To keep track of all the bugs, each developer may use it to record problems, add pictures, and share the data with other developers on the team.
4.

Studio Visual (with Xamarin)

Visual Studio (with Xamarin), made for Windows, is one of the best cross-platform IDEs for C# or C++. It is the best option when you need to build apps for both Android and iOS (which is usually the case). For cloud Android app development with Azure, you may find several themes and tools in Visual Studio. Your Android app development tasks may be created, tested, shared, and evaluated using Visual Studio.
5.

FlowUp

When working on an online or mobile project, performance is always important. FlowUp is also the best tool for developers to test the performance of any app, not just Android apps. With a regular payment, you may use it as a SaaS (Software as a Service) option. The system shows a clean, well-organized screen with all the important application factors, like CPU, bandwidth, storage usage, etc. Top Android App Creation Tools
6.

Zoho Creator

Brands need to provide their customers with a personalized and unique user experience. If not, customers may have experiences unrelated to the brand, which could hurt their trust over time. Because of this, businesses need to ensure that their Android app downloads are useful and simple for their loyal users.

Zoho Creator, a great Android app development tool, properly meets this need. Due to the platform's low-code development powers, developers may create customized apps with an easy-to-use interface, pre-written code snippets, and guided scripts for a shorter development lifetime.
7.

Vysor

Platforms for creating apps may be both straightforward and sophisticated. One such thing is Vysor. The platform is one of the best options for developing Android apps for businesses that don't need all the bells and whistles.

Developers may easily look at and change any part of Android apps on a PC with the aid of Vysor. It makes collaboration and use easy for developers. The platform has many cool features, such as the ability to mirror or control Android, take pictures, connect to wifi, share Vysors, and even access any new features that the Vysor developers may use.
8.

Eclipse

Eclipse is the following item on the list. Android development was mostly done in Eclipse before Android Studio came along. Some developers still use this tool to create apps for Android and non-Android platforms despite Google no longer supporting it. Eclipse is still a useful tool for making apps that work on multiple platforms, and it works with some computer languages.
Bottom Line
Platforms for making mobile apps are great tools that may help you create better ads. But, of course, each platform has pros and cons that depend on why you're making an app.