Like other Battle Royale games, Apex Legends has its fair share of bugs and glitches. These are acceptable, but it becomes aggravating when it crashes on every launch on your Windows 11 PC. Here are some things you may take to fix the Apex Legends crashing issue on Windows 11.
Ensure Computer Fulfills the Game's Minimum Requirements
Ensure your computer can run Apex Legends before making any significant changes. The following are the minimal requirements for Apex Legends on a Windows PC.
1 – Windows 8 64-bit OS.
2 – Intel Core i3-6300 3.8Ghz / AMD FX-4350 4.2GHz Quad-Core Processor.
3 – At least 6GB RAM and 1GB GPU RAM.
4 – NVIDIA GeForce GT 640 or Radeon HD 7730 GPU.
5 – At least 22GB of available space.
If your computer does not meet any of the abovementioned requirements, you can only update your computer to resolve the crashing issue. But if Apex Legends is crashing on a compatible computer, the following remedies may be of assistance.
Close Unnecessary Background Running Apps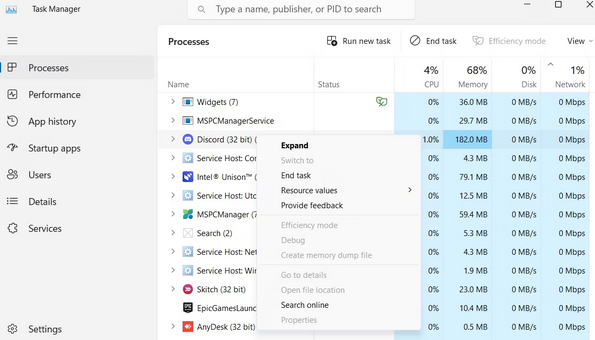 When you look at the taskbar, your computer can have no open apps, yet plenty may be running in the background. Google Chrome, Microsoft Teams, and your graphics card software are just a few programs that start running as soon as you boot your computer. If several such apps run in the background, your machine is prone to connection and crashing issues. The solution is simple: close all background apps before running Apex Legends. To accomplish this, open the Task Manager, right-click on any unwanted background apps, and select End Task. With Windows 11, you may also stop certain programs from running on boot.
Is The CPU Overclocked?
Overclocking your CPU is one of several things you can do to improve the performance of your computer when playing games. If you provide adequate air and cooling, CPU overclocking is beneficial. Nevertheless, not all games are affected by overclocking in the same way. It can produce excellent results in certain cases, but it can also be the root cause of major issues like frequent crashing. For example, disable CPU overclocking to resolve the Apex Legends crashing issue, returning your processor to its factory settings.
Change EasyAntiCheat Priority
Your multiplayer game will be free of hacking and cheating thanks to EasyAntiCheat, a service that detects and prevents cheating. Nevertheless, this service may mistakenly perceive your computer's background activities as malicious, resulting in various issues, including a full game crash. The solution in this scenario is to reduce the priority of EasyAntiCheat while Apex Legends is running in the background. First, open the Task Manager and select the Details option from the left sidebar. Next, find and right-click the EasyAntiCheat service. Next, choose Low from the context menu after clicking Set Priority. Finally, check if the crash persists after switching to Apex Legends.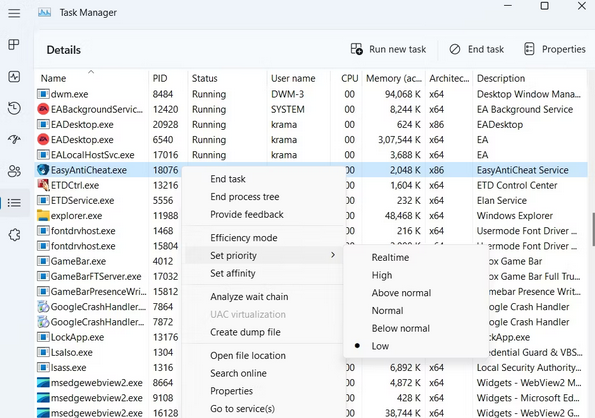 Tweak In-Game Settings
To improve the game's appearance, Apex Legends has a profusion of graphics-related options that you may enable. Unfortunately, some of these options are only compatible with high-end smartphones. Furthermore, if you enable these options on a low-spec device, the Apex Legends game will become more prone to crashing. Thus, if you have a low-end computer, ensure the game runs at a low resolution and that all extra features are turned off. In addition, while playing Apex Legends on a low-end device, you must make the following adjustments.
Display Mode – Windowed.
Resolution – native.
V-Sync – Disabled.
Anti-Aliasing – Disabled.
Texture Streaming Budget – Low.
Adaptive Supersampling – Disabled.
Ambient Occlusion Quality – Low.
Sun Shadow Coverage and Detail – Low.
Volumetric Lighting – Disabled.
Dynamic Spot Shadows – Disabled.
Effect Details – Medium.
Impact Marks – Low.
Ragdolls – Medium.
On the majority of low-end devices, these settings work effectively. However, you can still experiment with these options until you find the optimum combination for your computer.
Check Apex Legends Files For Corruption
Apex Legends will crash on your computer if its files are damaged, and this is the case both ways. Therefore, verifying the integrity of game files is necessary to discover and remove corruption. In the EA app, follow these instructions.
1 – Launch the EA app, then select My Collection from the left sidebar.
2 – Choose Repair from the three dots in Apex Legends.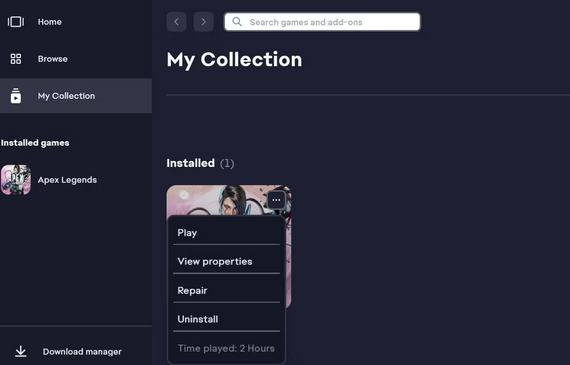 The EA app will now detect and remove any corruption in the Apex Legends files.
Update Graphics Driver
The graphics driver you are running may occasionally not be compatible with Apex Legends and cause it to crash. However, you may always resolve graphics driver issues by upgrading to the most recent version. Here's how.
1 – To open the Power User menu, press the Win + X hotkeys.
2 – Select Device Manager from the list that displays in the app.
3 – To expand the Display adapters node, double-click it.
4 – Choose Update driver from the context menu of the installed graphics driver.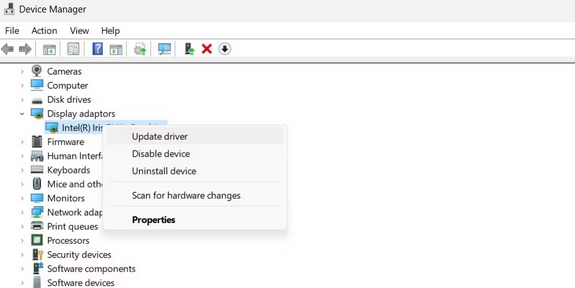 5 – Choose Search automatically for the drivers' option.
The Device Manager will look for and download any available graphics driver updates for your computer.
Allow Apex Legends Launcher Through Windows Firewall
Windows Defender Firewall might cause the Apex Legends launcher to crash. You must enable the launcher to run across the Windows Defender Firewall to stop this. Here's how.
1 – Press the Win + S hotkeys to launch Windows Search.
2 – Choose Allow an app across Windows Firewall and then click Open.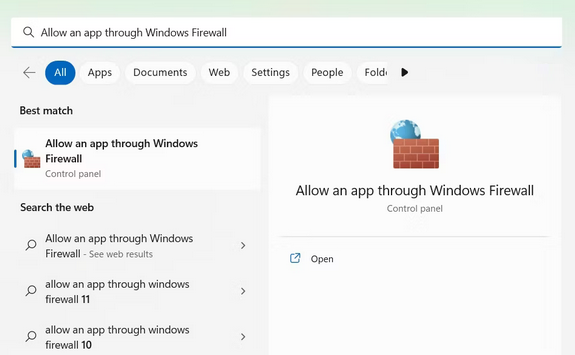 3 – Choose the Change settings option.
4 – Check the Private and Public boxes on all EA app services.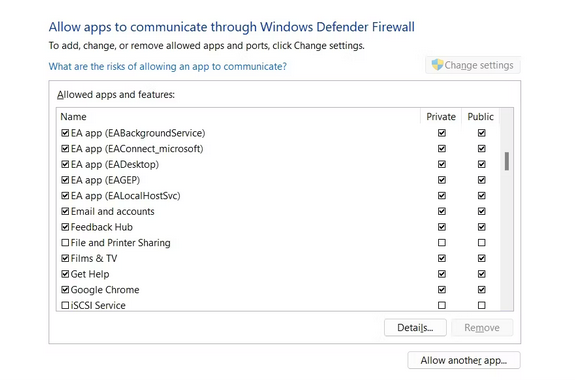 5 – Choose OK.
Similarly, if you're using Steam or Origin, check the Private and Public boxes for these launchers and save your modifications.
Conclusion:
Apex Legends and other multiplayer games are notoriously prone to crashes. Corruption in the game files or incorrectly adjusted in-game settings are frequently the cause of these crashes. However, you can use the abovementioned solutions to swiftly resolve the Apex Legends crashing issue.